THEME
The Bazaar
of Innovation Welcome to the hub

of Creation
CONCEPT 1
HAPPY
WORKPLACE
Stimulating encounters
invite innovation
"Chance favors the prepared mind."
As French scholar Louis Pasteur famously stated, new encounters filled with excitement lead to luck,

new discoveries, and creativity.
This is the starting point for an exciting place which can inspire innovation.
1.
Meet and Gather
A place where people of all kinds from both inside and outside the company gather and active communication arises.
2.
Discover and Talk
Spirited, uninhibited discussion springs to life, and innovation is born.
3.
Create and Grow
A place where there is always something to see, something being born, a new idea, a new dream; an atmosphere at NIC that makes visitors want to come back.

A work environment
that
inspires innovation
To change our working style, an exciting place is an essential point.Here all kinds of people gather, uninhibited discussion springs to life, and unimaginable innovation is born.There are seven key places where this happens.
1.
Hair Science
Square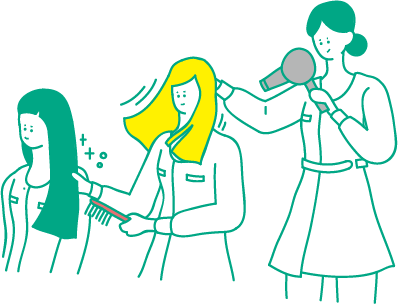 The textile that is hair,
treated as a science; creating a product based on an idea
Hair Science Square is a cosmetics lab space that has the same setup as a salon.Here you can design and create products with the feel, smell, and finish that you have imagined.There are Hair Science Squares (HSS) around the country, not only for development, but also to serve as locations for training programs in which stylists can learn to use our brand products.At HSS we not only conduct hair science research, but also are there to listen to real everyday hair-related problems and offer solutions.
2.
Surface Science Lab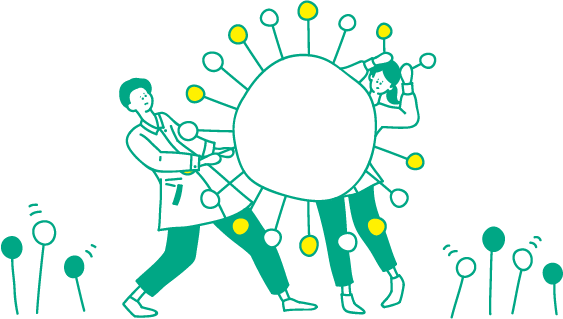 Turning key technology into cutting-edge production systems
Surface science forms the foundation of NICCA Chemical technology.Our company began in textile treatment agents, and has since expanded to supporting industries such as cleaning, metal, paper, cosmetics, and heath care.From here on out, we will also be working with our customers to develop products for leading-edge fields like high-polymer materials, electronic materials, environment, energy, and biological sciences.
3.
Project Camp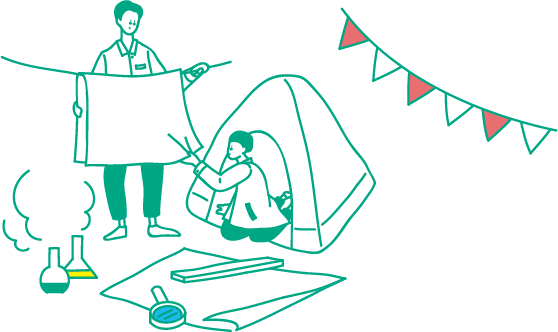 First theme: textile treatment technology solutions
NICCA Chemical's strongest point is provision of solutions.We solve the problems that are troubling our customers together with them at their facilities.Through our experience on the factory floor in textile treatment, NICCA Chemical became an expert in "on-site observation testing," which is exactly what it sounds like.Now placing the utmost importance on on-site conditions is the NICCA way of doing business and research outside the field of textiles, as well.Come to the Project Camp on the first floor in Collaboration Square, look at the textile treatment solutions we have provided customers in the past, and feel free to consult us about any problems you are having at your own site.
4.
Open Lab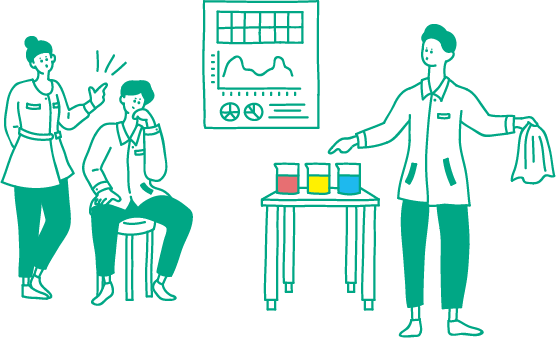 Present it, even as a work in progress
First things first: turn the idea into something visible.At NIC, we value prototyping, displaying works in progress at even only 30% through the development process, in order to incorporate advice and opinions from different angles.By prototyping, the product becomes more feasible.If it is presented in front of an audience and all kinds of people take an interest in and participate in its development, speed and accuracy will increase remarkably.There are three special laboratories in T square.There is also the open lab, where visitors can see the appeal of NICCA Chemical technology.Here we have visitors observe and participate in experiments and evaluations.
5.
Idea Tables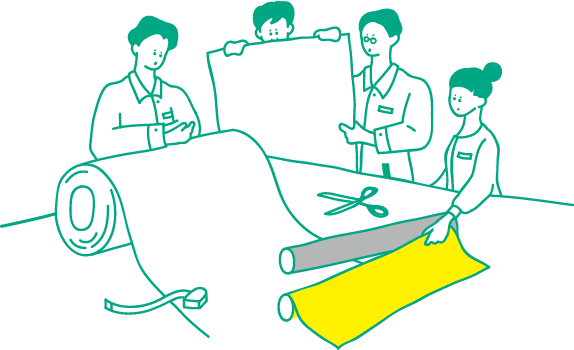 Collaborate with others
There are white tables called "Idea Tables" set up between laboratories, on the hallway everyone uses to get from place to place.In this open space, refreshments and tea are available, and passersby or those who have come to take a little break can lightheartedly participate in the discussion going on.Thinking things out on your own or in your own team has its advantages, but surprisingly, sometimes it is hearing opinions from your peers or researchers in differing fields that enables you to make new discoveries or offers the clue that leads you to the solution.These tables also just might provide fresh inspiration to those who stopped by, as well.
6.
Library Area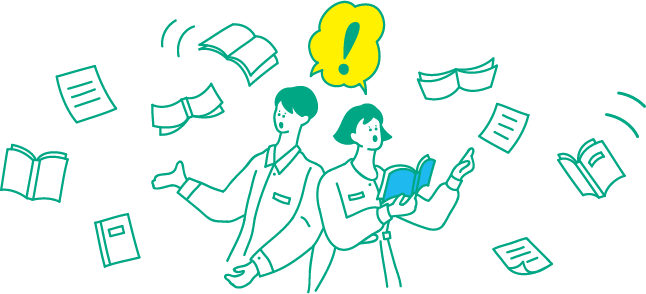 Bookshelves filled with must-read books
Half of NIC's office is free seating:employees can set themselves up wherever they like to work.At one end of this space is a large bookshelf, filled with books employees want to recommend to their peers, specialized journals on the chemical industry, fashion magazines, and a portion of the former chairman's private book collection.The library area is overflowing with the stimulation of knowledge, from must-read classics that defy age to books that offer a glimpse into the future.
7.
Contemplation Rooms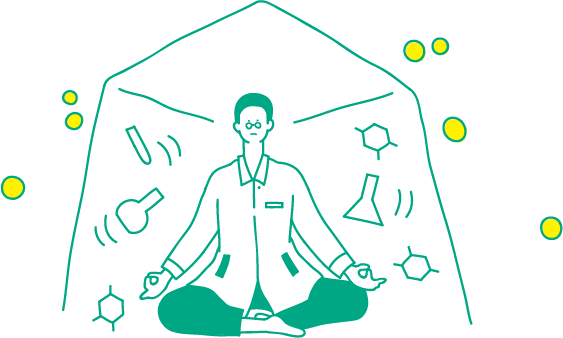 Private hideaways on the back hallway
Overall, NIC is a very open place, but we have also prepared rooms in which one can quietly get to work in a less conspicuous place.It's just right for when you want to work by yourself and focus, or for working out an idea in a small group.It's a cozy, calm atmosphere—a perfect private hideaway.
Inside the Market of Creation
One of the intentions of NIC's design is to make it a fun place to work.

A large number of employees, including those in sales, research, and engineering, participated in workshops spanning three years.
In the workshops there was a consensus on creating an exciting environment where one could enjoy the unexpected and try developing combinations never tried before.

The result of this is visible in particular in the five areas (squares) spread over the first floor like a bazaar, where people can work together on development in a free atmosphere.
A. Entrance Hall
NICCA Chemical's "DiaLumie" screen greets visitors.
B. Open Square
To promote innovation, NICCA Chemical technology is introduced through 9 Show Cubes and on tablets.Open up the drawers and fathom the cutting edge of technology with us.
C. Langmuir Avenue
Named after Dr. Irving Langmuir, the father of surface chemistry, who broadened the horizons of the field and received the Nobel Prize.
D. Elevator Hall/NIC Gallery
On display is a composite of Echizen Paper and recycled paper that uses a cutting-edge NICCA Chemical de-inking agent which can be used on UV ink.This hybrid Echizen Paper decorates the wall.There are also modern works of art by young artists on display to be enjoyed.
E. Hair Science Square
Created for communication and the exchange of information, essential to the development of cosmetics, with a core of hair science and learning.Here people from various fields gather around one table for product development.While digging deeper on the fundamentals of hair science, we will hold seminars and training courses for those in the field.
F. Collaboration Square
At a bazaar, all kinds of people exchange techniques and opinions.With this concept in mind, we created Collaboration Square.When people come together, the result is innovation.
G. Seven-Meter High Table
A large table completed during the workshops by the architects, furniture designers, woodworking craftsmen, and NICCA Chemical employees. This table was created using NICCA Chemical's urethane coating on the rich, expressive Japanese cedar of Fukui.
H. Garden Square
A place where people from all over the world can gather for a variety of purposes to have lively discussions.The hall will be used for seminars, lectures, conferences, and symposiums.
I. T Square (Trial Square)
A research area composed of a testing room, a special laboratory, and a fine analysis laboratory.This area is for new concepts that NICCA Chemical is now working on.Here we collaborate with customers to develop prototypes and evaluate, discuss, improve, and perfect them.
CONCEPT 2
HAPPY
WORKING STYLE
MESSAGE


Innovation of
working style
The business world has reached a time of extraordinary, fundamental change.Even amidst these changes, NICCA Chemical's policy of working together with our customers to solve the challenges they are facing has not changed, and never will.Additionally, at NICCA INNOVATION CENTER, we promote interaction of researchers beyond the limits of the field and open innovation to create new value from previously-unconsidered angles.There are seven words that hold the key to doing so.
1.
PLAYFUL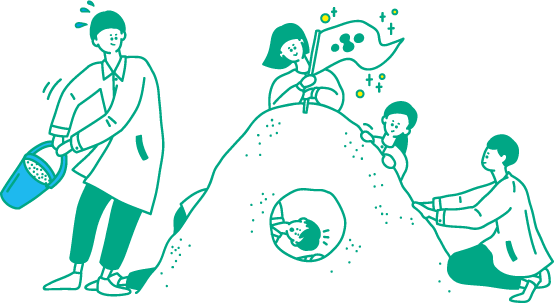 Imagine an adult's sandbox—
with ideas and prototypes as the toys.
Research and development that begins from sheer curiosity, new development projects that you instantly want to be a part of.... The place where everyone brings their ideas and prototypes is bound to be fun.Think as freely as a child playing in the sandbox.Think flexibly, get engrossed, get excited.It is in this adult's sand box that innovation is born.
2.
COWORKING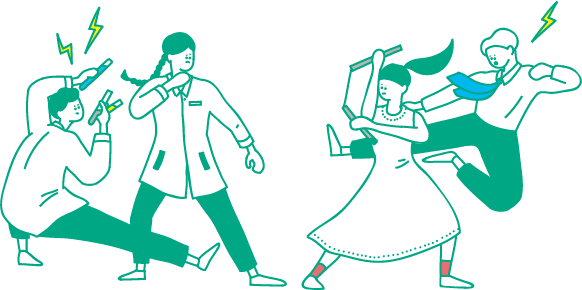 A lineup of fighters from all different fields.Friendship and new business are born.
Those seated at the table for open discussion are not only researchers.Customers, and their customers.People from different fields.People from the community and young people who may one day be team members....Passing around all kinds of ideas, repeating discussion and research, and cooperating leads to previously unimaginable new discoveries and results.
3.
NETWORK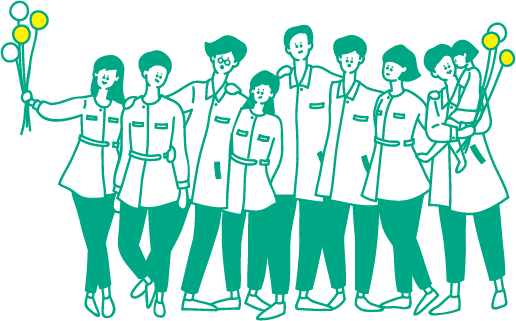 The One Hundred Friends project.
Introducing the people you know to the people you're connected to.
One person can only think as much one person.However, if you gather 100 people, you have 100 thoughts to link together, grow, and expand, and the possibilities are endless. This type of network where people come together will be indispensable in generations to come.We are working toward creating an environment in which research institutions from inside and outside the country and even our competitors can be our friends and allies.
4.
FAIL FAST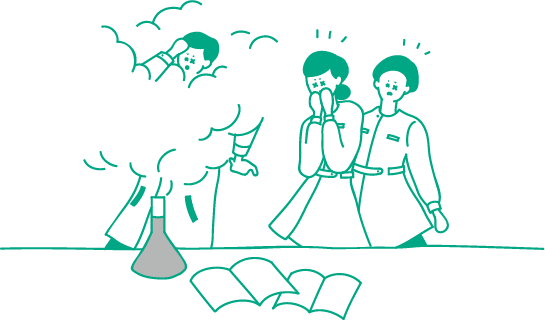 The courage to fail.
If you fail fast, success is just around the corner.
Today as much as in the past, failure breeds success.Only in a corporate culture that challenges everything is innovation born.The trademark comment of one of our pioneers was, "Interesting! Let's try it!"Behind the spirit of being willing to try any and everything is the tacit understanding that mistakes are not to be feared. Hence, mistakes made in order to continue forward are not reprimanded.So come on—it's your turn to give failing a try.
5.
SERENDIPITY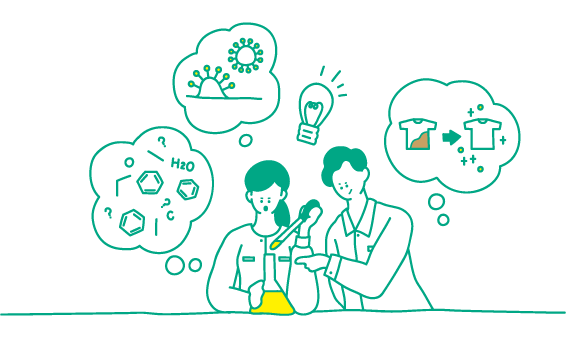 The strength to seize luck as it comes.
If you think it through, things come together, the solution is found.
Before even thinking, try it out.The "First of all, let's try it" attitude is important for research.When you try it and the unexpected happens—that is serendipity.If you don't try, nothing will happen.In the field of surface chemistry in particular, to try first and ask questions later is critical.In doing so, wonderful coincidences and unexpected results are discovered.
6.
CSV (Creating Shared Value)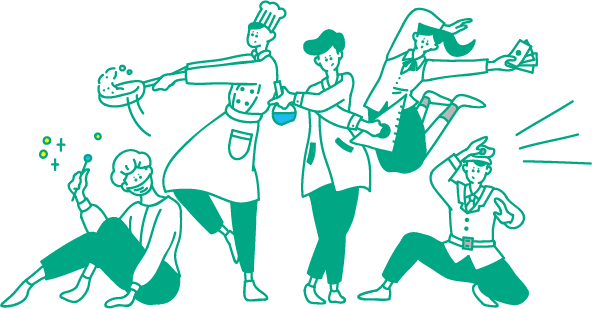 Thinking about society, together with society.
Sharing new value with society.
To foster innovation, interaction with society is essential.Innovation that does not benefit society has no value.The theme of "bazaar" was chosen for NIC out of a desire to make it a place to relate more intimately with local society.Using Collaboration Square and other open spaces, we will create value that benefits society.
7.
DIVERSITY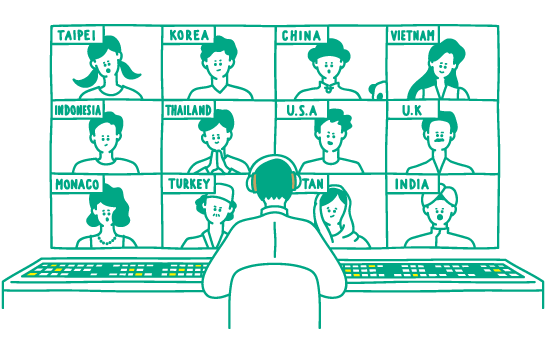 Let's do it—together.
All the individuals gathered together is what makes up NICCA.
The NICCA group has 12 branches in eight countries, which engage in production, sales, research, and marketing.With the motto, "Meet the challenges that face the market on the factory floor," each country's team is composed of members brimming with individuality.While sharing values with our global partners, we wish to continue to deliver NICCA brand quality.The power of one person is multiplied by our "one big family" management philosophy, and the power that results is awe-inspiring.
MESSAGE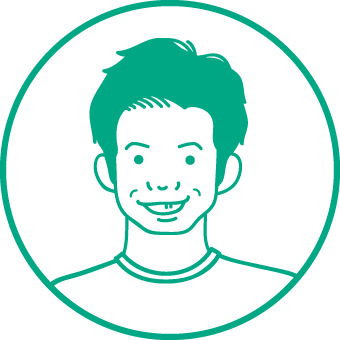 Environment is a breakthrough

in revolutionizing working style
Architecture is one of many environments that humans live in.
When an environment changes, the awareness of the people inside it also sees a big change.
We decided on the basic design of NIC through the workshops,
in which employees participated.
At these workshops, new ideas and opinions were always being tossed out,
people were interacting actively and freely—it was truly a bazaar.
It is my greatest wish that at NIC ideas continue to be generated,
that as a space and as a place continues to change and grow,
and becomes "living architecture" that far, far outdoes anything I could imagine.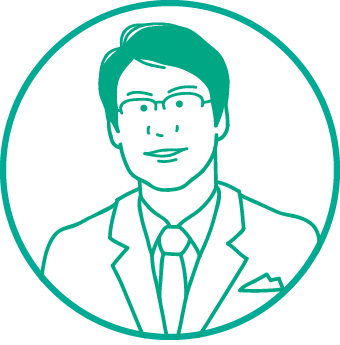 The way you work is the best presentation you could make
NICCA INNOVATION CENTER
was born in order to show the innovation of the NICCA Chemical Group to the world.
It is a place for people from all over the country and all over the world to gather, create new technology, techniques, development ideas,
and business models, and interact without the limits of the framework that was standard up to this point.
It is a place of creation, where a group of diverse people come together to create
new value through lively, uninhibited discussion.Like the Grand Bazaar in Turkey,
I want it to be a market where interesting information and prototypes from the world over are gathered.
"If I go to NICCA Chemical's Innovation Center, there will be something to see,
a trigger for something new, new technology and ideas will be born."
"I'd like to go back." There is nothing that would make me happier that to have you think that.
We founded our company here on Fukui soil.
Even when we met with war and natural disasters such as the Great Fukui Earthquake,
we overcame those hardships and created the foundation for growth and success.
And now, we are turning back to our starting point here on the same soil,
ready to innovate together with our customers.
For every time I hear someone amazed that "There's this kind of place in Fukui?"
I want to make NIC that much more of an exciting workplace.